The Colorado Rockies are home to some of the world's best fishing spots. They offer great, once-in-a-lifetime, opportunities for all fisherman, regardless of age or experience. Take a day and cast your line into the crisp Colorado streams with family and friends. There is nothing better than bringing in a beautiful Colorado native trout after a day of exploring the Rockies.
Located in the heart of Colorado, the Roaring Fork Valley is home to Colorado's longest stretch of Gold Metal Water.
Colorado River and the Roaring Fork
The Colorado River and "The Fork" offer exceptional fishing opportunities that welcome fishermen of all skill levels to dip their toes into, not only the sport, but the fresh Colorado waters as well. With countless easily accessible points, anglers can catch ample fish on the Colorado River and the Roaring Fork River.  The two rivers have a confluence in Glenwood Springs.  Many of these local Colorado fish are large and put up a great fight, making these rivers, in particular, legendary fishing destinations recognized around the world.
Rainbow Trout and Brown Trout are the dominate species that rule the waters; they are big, aggressive and strong. Brooke Trout and Cutthroat Trout are typically smaller faster species that attack the flies on the surface, opening up a new level of fishing. They are less common, so what they lack in size they make up for in rarity.
Please visit one of the local flyfishing guides in the area to educate yourself on the different hatches in progress to help you select a fly or lure that will land you a beautiful monster! Fishing the Colorado River is a great, all inclusive, experience for all those who venture into the Roaring Fork Valley looking for fish.
The Fryingpan River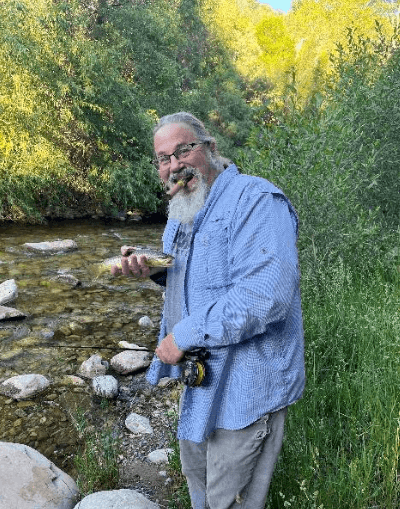 "The Pan" is a nickname given to a beautiful 14-mile Gold Metal Water stretch below Ruedi Reservoir that runs into the Roaring Fork River in Basalt, Colorado. Anglers from around the world come to this semi-remote section of river not only for the spectacular views but to increase their flyfishing knowledge and land some of Colorado's finest fish.
The Fryingpan is a shallow river so flyfishing is the best option. Here, all of Colorado's native trout can be caught: Rainbow, Brown, Brooke, and Cutthroat. The best time to fish the Frying Pan is mid-June to the end of September using the prolific Green Drake mayfly. Fish can be caught year-around, please visit a local flyfishing guide to understand the ongoing hatches to increase the likelihood of you bringing in a plethora of fish.
East Elk Creek
East Elk Creek running through the East Elk Creek draw just Northwest of downtown New Castle, Colorado offers great family fishing options. Serious and first-time fishers both have access to a great number of fish populating the small mountain stream. The local fish hatcheries stock the bottom sections with Rainbow Trout every season, and the large Brown Trout find their way up East Elk Creek to spawn in the spring. Needless to say, East Elk Creek is jam packed full of fish and great fishing opportunities. Elk Creek Campground in New Castle has nearly a mile of creek access for its guests to explore and fish.
Harvey/Rifle Gap
Unlike the majority of Colorado fishing, Rifle Gap and Harvey Gap Reservoirs offer a different style of fishing. Instead of the body of water being dominated by the native trout, Rifle and Harvey Gap are home to a much different eco system. Catfish, Largemouth and Smallmouth Bass, Perch, Crappie, and Northern Pike occupy the waters. All styles of fishing can be implemented here; flyfishing, spinners, jig fishing, and live bait are all capable of catching some monsters in these lakes. Fishing from the shore is common, but more often than not fishermen use boats/canoes to access different parts of the lake.
All of these spots are located within an hour of Elk Creek Campground, making it an ideal hub to explore the Roaring Fork Valley. It also provides easy access to the lakes, ponds and streams within the Flat Tops Wilderness Area. Reserve your full hookup site or cabin today, and start planning your summer adventure.